Last week's Niners game was awful. Colin Kaepernick took a record number of sacks, was intercepted one and a half times, and his total QBR went from a 117 to a 42. It seemed like something other than the Panthers defense was getting him down. The only thing that could cause that big of a turnaround in production? A lady. He has a newishly rumored girlfriend Micha or Marie (depending on internet reports), an 18 year old ASU track star. They probably had an argument about how he wasn't taking her track meets seriously.
There's also his ex Sydney Leroux, who's been flooding the internet and probably his brain with antics such as this.
Or maybe his other alleged ex Sanaa Lathan pulled him away for some pre-gaming of her own.
Dude's got ladies coming out of his biceps and his game is affecting his game. For this week's picks, I checked into potential relationship red flags to determine which quarterbacks had a better chance of keeping focused on the field.
JETS @ BILLS
My pick: BILLS
EJ Manuel doesn't have an alleged girlfriend, but Geno Smith has this: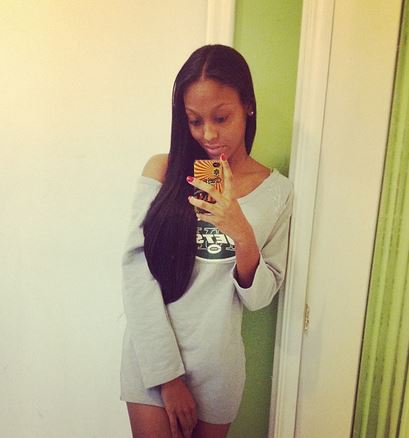 As Harold Hill once said, We got Trouble in River City. #MusicManreference #AnyFootballTheatercrossoverfansoutthere #no? #ok
FALCONS @ BUCCANNERS
My pick: Falcons
Matt Ryan's wife Sarah just took a job in sales with the WNBA and is a former athlete herself. She knows better than to distract him on game day. Mike Glennon's girlfriend Jess Wetherill's Twitter bio reads "It's better to be absolutely ridiculous than absolutely boring", which sounds like the epiphany of a drunk college girl.
LIONS @ STEELERS
My pick: Lions
Matt Stafford has been with Kelly Hall since college. She is hot, recently stuck up for herself and her implants on Twitter and the two of them wore a couples costume together this Halloween (he a ref, she a sexy ref). Matt Stafford's got to be feeling pretty confident out there these days to let something like this fly…
REDSKINS @ EAGLES
My pick: Eagles
You'd think RGIII's relationship is solid based on his current Twitter activity which boasts "Good laugh at lunch today with the wife. Some people don't care what's on the menu. They just wanna use the restaurant john", but you'd be wrong. He is currently involved in a scandal with a Hooters waitress (can't it just for once be a Bennigan's?) and the fact that she may or may not have texted and FaceTimed with RGIII on his wedding day. Whether or not that's true, the alleged mistress' Twitter feed is a lot of:  "@KatelynBryce: Just realized I haven't worn a bra all day… Yup even to lab.. Is that weird? 😂😂😂" same here!", so he's got plenty on his dinner plate at the moment.
CARDINALS @ JAGUARS
My pick: Cardinals
Carson Palmer's wife is a former USC soccer player and they've been together since college. They have four year old twins. Chad Henne's wife just had a baby. Newborns beat four year olds in the stress department.
RAIDERS @ TEXANS
My pick: Texans
Case Keenum's wife Kimberly had her bridal portraits taken in the stadium. That's a level of dedication I don't understand but can certainly judge. This woman lives for keeping her husband happy on that field.
RAVENS @ BEARS
My pick: Bears
Joe Flacco is one of the oddly many quarterbacks who have recently taken the field while their wife was in the hospital giving birth. That's stressful enough, but when you take into account their height/size differential, I would think communication would be their biggest issue. Mainly, how does he hear her all the way up at that altitude? How does he not mistake her for a snack?
BROWNS @ BENGALS
My pick: Bengals
A quick Twitsearch reveals MAJOR drama in the Weeden household. His wife Melanie's most recent tweet: "Welp, I just cut 8 inches of my hair off. 😯" Men fear change more than elephants fear mice and they definitely don't understand our need to emotionally vent on our hair follicles, so I'd imagine Mr. Weeden is spending a lot of his time stressed about how to make it up to Melanie after giving her a deadly "it's just…different!"
CHARGERS @ DOLPHINS
My pick: Chargers
A lot going on in this one. Philip Rivers' wife Tiffany gave birth to their SEVENTH child a little over two weeks ago. Normally, a new baby would be super stressful, but the Rivers have an entire staff of children on hand to help out, so it can't be all bad. Ryan Tannehill, however, is married Lauren Tannehill, who is more famous for being hot than he is for being an NFL quarterback. Keeping the most coveted woman on the internet happy has got to be just as terrifying as evading a five man rush. Our thoughts are with you, RT.
PACKERS @ GIANTS
My pick: Giants
Eli Manning and his wife Abby are college sweethearts and have a two year old. Scott Tolzien has no active Twitter, Instagram or Tinder profile, so I can't very accurately analyze his social life, but he does have his first career NFL start this week. So there's that.
VIKINGS @ SEAHAWKS
My pick: Seahawks
As much as it really pains me to say it…Like, migraine pains me to say it…Russell Wilson and his wife Ashton just might be the sweetest thing going. They've been together since high school, they volunteer together weekly at Seattle Children's Hospital, and this was Ashton on draft day: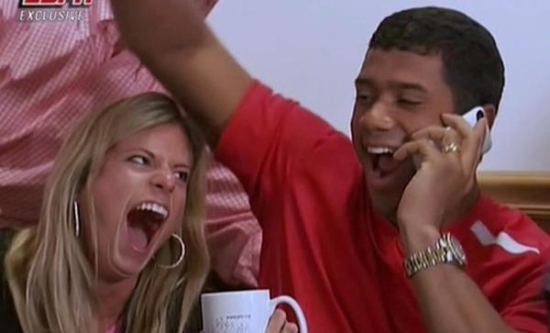 49ers @ SAINTS
My pick: No comment
See above for my analysis of the Kaepernick situation. Drew Brees, on the other hand, has been together with his wife Brittany since college. The biggest drama in their lives is the family's lactose insensitivity.
CHIEFS @ BRONCOS
My pick: Chiefs
Peyton's wife Ashley bought a minority stake in the Memphis Grizzlies a year ago and they have one year old twins. Aside from that, Ashley keeps a very, very low public profile. Alex Smith's wife Elizabeth has an active Instagram feed which is full of pictures of their two adorable boys, including this one, which is just another example of how Alex is game for anything and everything. Not even being devoured by Goofy can phase this guy.
PATRIOTS @ PANTHERS
My pick: Patriots
Cam Newton may or may not be engaged to his girlfriend Hazel, a former stripper without a last name whom may or may not be pregnant. There's also Twitter evidence that he is cheating on her with Promise B Mae, a radio personality.
I just don't know how much more hot a mess can get.